#155 Why Can't Public Schools Look Like That? with Kevin Butler (pt.1)
Hello everyone! Today we are asking the question, Why Can't Public Schools Look Like That? with none other than the great Kevin Butler!
If you don't know who Kevin is, you are missing out, because he is a wealth of inspiration for what schools CAN BE. In his work at an independent school, he continuously models ideas, lessons, and teaching practices, that are next level and completely inspiring.
If you believe teaching is boring or feel like you are being limited by "the system," then this episode is for you!
In this talk we touch on:
His many roles as a teacher and director of curriculum
What inspires us to push the boundaries of what teaching can be
Why scripted curriculums are the bane of teaching
How to overcome limitations put on you as a teacher
And much more!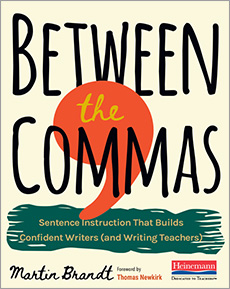 This episode is sponsored by Heinemann—the leading publisher of professional books and resources for educators—and their professional book, Between the Commas: Sentence Instruction That Builds Confident Writers (and Writing Teachers) by Martin Brandt.
A veteran English teacher at San Jose Independence high school, Marty Brandt was flat-out frustrated with the quality of his students' writing, and doubting himself as a writing teacher.
Realizing that part of the problem was the traditional, painful methods of grammar and sentence instruction he was using, Marty set out to reinvent writing in his classroom. Between the Commas shares the novel approach to grammar and sentence instruction he created for the students in front of him.
Marty's laugh-out-loud sense of humor and live-from-the trenches stories will engross you in one teacher's journey out of the duldrums of old school grammar instruction and into the light of what's possible as a writing teacher. To learn more, visit Heinemann.com to download a sample chapter.
from Teach Me, Teacher
https://teachmeteacherpodcast.com/2020/03/16/155-why-cant-public-schools-look-like-that-with-kevin-butler-pt-1/
via
IFTTT