198: Establishing a Positive Culture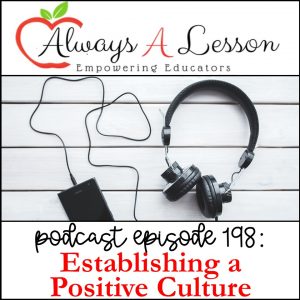 It's not all rainbows and butterflies in a classroom or school building. Sometimes the negativity can spread like wild fire and deteriorate a class or school culture. Tune in to hear how to initiate a positive culture, rebuild a culture when it's broken, and turn around a negative culture. Not only will teachers learn tips for the classroom and teacher leaders for the school, but a secret trick is shared for how to maintain a positive culture once it is established.
Quotables
A positive culture is something that can feel like takes FOREVER to establish and can go away almost immediately
Establishing a positive culture is a long game strategy, not a quick fix
You aren't above them, you are them.
Students don't expect perfection in the classroom, but they expect you to have their backs and to never give up on them.
You are leaders in your classroom and school building for a reason, but it doesn't mean you don't have room to grow
Participate in the 200th Episode Fun
Option 1:

If you have enjoyed the podcast, leave me a quick audio comment telling me what your favorite thing about the Empowering Educators podcast is. Don't forget to say your name and where you're from so I can give you the proper shout out. You can use Voxer (my handle is gschultek). You can also use a voice recorder app on your phone and email it to me: gretchen@alwaysalesson.com

Option 2

: Take less than 10 seconds to fill out this google form to cast your vote for favorite episode and favorite aspect of the show!
Grab a Slot on my Calendar
Let's chat about your currents and develop a plan. Click below:
Join the Always A Lesson Newsletter
Join the New Teacher Support Facebook Group
Shop AAL Swag
Connect with Gretchen
Email: gretchen@alwaysalesson.com
Blog: Always A Lesson
Facebook: Always A Lesson
Twitter: @gschultek
Instagram: Always.A.Lesson
Linkedin: Gretchen Schultek Bridgers
Google+: Gretchen Schultek Bridgers
Book: Elementary EDUC 101: What They Didn't Teach You in College
Leave a Rating and Review:
This helps my show remain active in order to continue to help other educators remain empowered in a career that has a long lasting effect on our future.
https://itunes.apple.com/us/podcast/always-lessons-empowering/id1006433135?mt=2
Search for my show in iTunes or Stitcher.
Click on 'Ratings and Reviews.'
Under 'Customer Reviews,' click on "Write a Review."
Sign in with your iTunes or Stitcher log-in info
Leave a Rating: Tap the greyed out stars (5 being the best)
Leave a Review: Type in a Title and Description of your thoughts on my podcast
Click 'Send'
from Always A Lesson's Empowering Educators Podcast
https://alwaysalesson.com/198-establishing-a-positive-culture/
via
IFTTT