#156 The Best Teacher PD Is … (Kevin Butler pt.2)
Hello everyone! I am SO EXCITED about this week. Why? Because even in the face of great adversity, there are so many districts pushing to keep learning going, and so many teachers working to create a temporary "new normal" for their students.
Hopefully, this episode keeps you inspired and keeps you pushing to be your best—and it should, because we are talking about what the best teacher professional development is!
Wait, you don't know? And you think I'm going to spoil it in this post?
NOPE!
I want you to dive in and enjoy the talk. Let us know if you agree on Twitter, Instagram, or even in down below in the comments!
If you missed last week's episode and the first part of my talk with Kevin Butler, go check it out!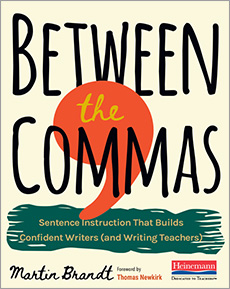 This episode is sponsored by Heinemann—the leading publisher of professional books and resources for educators—and their professional book, Between the Commas: Sentence Instruction That Builds Confident Writers (and Writing Teachers) by Martin Brandt.
A veteran English teacher at San Jose Independence high school, Marty Brandt was flat-out frustrated with the quality of his students' writing, and doubting himself as a writing teacher.
Realizing that part of the problem was the traditional, painful methods of grammar and sentence instruction he was using, Marty set out to reinvent writing in his classroom. Between the Commas shares the novel approach to grammar and sentence instruction he created for the students in front of him.
Marty's laugh-out-loud sense of humor and live-from-the trenches stories will engross you in one teacher's journey out of the duldrums of old school grammar instruction and into the light of what's possible as a writing teacher. To learn more, visit Heinemann.com to download a sample chapter.
from Teach Me, Teacher
https://teachmeteacherpodcast.com/2020/03/23/156-the-best-teacher-pd-is-kevin-butler-pt-2/
via
IFTTT